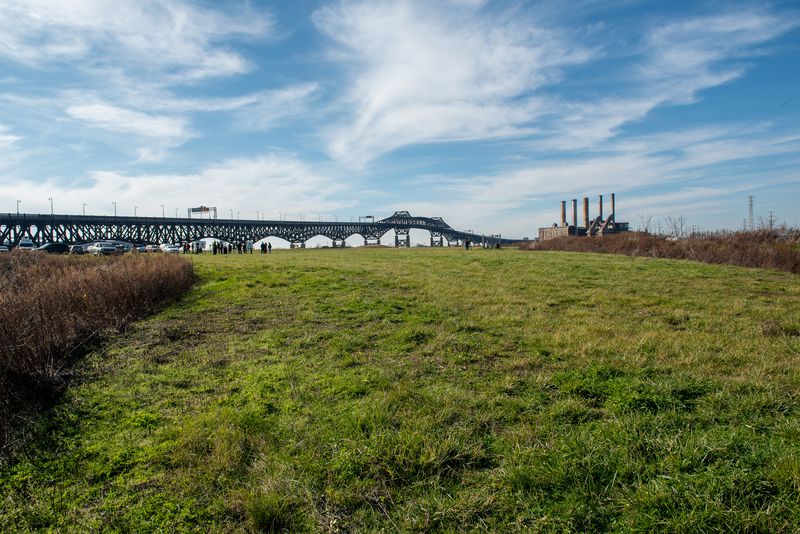 In 1982, 87 acres were declared a Superfund site. In 2009, Jersey City took legal action against the owner of the property to have the rusting debris removed from the site and then acquired the property with grants from Hudson County and the Port Authority. Waste Management implemented a remediation plan approved by the United States Environmental Protection Agency and the New Jersey Department of Environmental protection.
Since that time, the area has been planted with native grasses and wildflowers, creating a gorgeous natural contrast to the imposing industrial structures that otherwise dominate the landscape. Although already a picturesque natural oasis and a refuge for wildlife, Skyway Park is closed to the public. Unfortunately plans of a modest cost that would substantially enhance its aesthetics and accessibility have yet to be implemented.
After substantial input from the public, Jersey City and The Hackensack Riverkeeper jointly applied for a Greenacres grant and were awarded $800,000 for the creation of the next phase of the park. This new phase is consistent with the public input that called for a natural and passive area that would finally provide the people of the Marion neighborhood and nearby Journal Square, easy access to enjoy the Hackensack River Waterfront. The plan has yet to be implemented as Jersey City has not provided the needed matching funds.
The Skyway Park Conservancy is committed to completing the vision of Skyway Park that was embodied in Jersey City's Greenacre grant application, championed by the Hackensack Riverkeeper and, called for by the public at numerous meetings. Skyway Park will complement Lincoln Park West, Skyway Park Golf Course, and other open green space along the Hackensack River to provide Jersey City with a "Green Coast". Crucially, Skyway Park will include an important part of the Hackensack River Walkway, which someday will enable residents to walk and/or bicycle ride along the river from Bayonne to Secaucus.